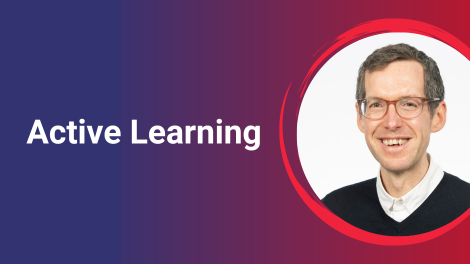 Active learning: How CyBOK's educational resources spread both enthusiasm as well as knowledge
Published: 24 Oct 2023, 5:30 p.m.
For Dr Joseph Maguire the chance to work with CyBOK closely aligned with his own aspirations as a university lecturer focused on engaging students in a practical, hands-on manner. The active learning resources and lesson plans around forensic science that he developed contribute to the project's vast wealth of materials, and demonstrate the creative power of collaborative learning across Higher Education.
How did you first get involved with CyBOK and what was the appeal?
I responded to a couple of calls for participation, first in 2020/21 and again in 2022/23, to develop educational resources around the original CyBOK. The vision of the CyBOK resonates closely with my own motivations as a lecturer, in terms of building and sharing a meaningful body of knowledge. It felt to me like a very simple, imaginative and powerful idea, to create this solid foundation of material that people could engage with.
I really enjoy my role as a lecturer, engaging students in topics such as forensic science. I'm fortunate at Glasgow because the university is focused on active learning, which is to say, encouraging students to engage with the material they're presented with rather than just delivering it to them in a dry fashion. So the call from CyBOK really excited me because it aligned precisely with this approach, and it felt like a good opportunity to bring that approach to more people because the resources we developed are openly available for other universities to access. The ultimate result is that you get more people who are engaged and excited by the topic, it was a really useful way of developing learning resources that use CyBOK knowledge to support other educators who want to do the same thing.
From the perspective of being a university lecturer, I was aware of the CyBOK prior to that. It's a fantastic resource because it allows you to see what the community of practitioners in the field believe to be important, so it provides a sense check when as an educator, you're considering your approach and the materials you might use to teach something like forensics, in my case. This is important because when someone studies forensics or cyber security, their experience is shaped by the interests and the focus of that particular university and lecturer. The good thing about CyBOK is that it allows you, as a university and a lecturer, to see and set a standard that is consistent while allowing for those variations.
How have the resources that you've developed with CyBOK funding helped to evolve how forensics is taught and understood?
CyBOK outlines the baseline of knowledge that individuals should know for a given topic area. The idea of taking an active learning approach is that if you're a lecturer, you're tasked with taking a Knowledge Area from the CyBOK and delivering it in an engaging way. That involves devising a lesson plan that includes sufficient resources and activities that will enable a group of students to build their understanding. That takes a lot of time and effort, so by developing some resources my motivation was to not only give my own students something interesting to work with, but to create something that other educators could adapt to suit their own needs.
If we take the example of digital investigation models in forensics, even students who are excited by the subject might consider this to be a rather dry subject to have to get their heads around, the porridge that they have to get through in order to get to the good stuff, you might say! People might have certain perceptions and resistances around why they have to even learn this material. The power of active learning is that, as an educator, I am challenged to find a real-world example that will help students appreciate why this knowledge and this theory exists, and why a cognitive model exists to benefit them. The challenge on my part becomes one of setting up an activity and a structure that gives students a sense of the value and merit in something that might otherwise seem dry and disinteresting. The benefit for the students is that they get an experiential understanding of why something matters that they had their misgivings about.
One thing I quite enjoy doing is identifying a relevant course case that can help illustrate a topic within the Knowledge Area on forensics that students need to work with. I'll set up our bespoke study environment that replicates the original course case scenario, provide the material around a case of employment dismissal for instance, with a redacted log of the actual case, and then students can go through that example in a replicated scenario that brings it to life.
By the end of that process, through talking and testing out ideas in small groups, students inevitably come up with something that is close to the conceptual model in the CyBOK before they've seen it, or they'll come to an incorrect result which demonstrates the value of the model that I'll then talk them through. Either way, they come to an experiential appreciation of the theory in a more engaging manner than if they were simply presented with the rationale.
Of course, the beauty of these CyBOK resources is that any institution can use them, so that anyone can deliver this knowledge in a Higher Education context and the effort that goes into them is doubly worthwhile.
How would you describe the broader benefits of active learning?
Students will have varying levels of understanding when they come into any particular degree programme. That includes cultural differences as well the educational background that shapes their perceptive of forensics, in this case.
Many initially start out with a view that forensics is simply a tool that they need to learn to apply. The problem with this perspective is that any tool has a shelf life, whereas a student going into a career needs a depth of knowledge that will persist over a longer period of time, beyond the life shelf of a tool. They therefore need to be able to grasp the importance of the theory and the knowledge that underpins that tool. What's great about the active learning plans in the CyBOK materials is that they help students to practically understand the value of theory, and related to that, the reason why the tools work. This allows them to see the value in understanding why and how something works in any given scenario, rather than a limited understanding that only focuses on the output.
Forensics is a curious subject because it brings together other topics in terms of legislation, privacy, ethics, and so on, so the tool is the least of a practitioner's worries because you could apply the tool and break lots of privacy concerns, which could open you up to lots of other issues. When you look past the tools, that's what students come to understand – the need to have a broader perspective.
Using the CyBOK lesson plans has made my life easier in terms of persuading students why this matters and it's made their lives easier by improving their understanding in a real-life way. Active learning empowers me as an educator, and it empowers students with a deeper understanding.
What do you think makes CyBOK so valuable?
The tenets of CyBOK are very important, in terms of how it's been devised in collaboration with academics and researchers who have curated this material in a rigorous way. Having a respected, rigorous body of knowledge that you can lean upon and which you know a community of people can have faith in is a very powerful thing.
From the perspective of working on a funded project, collaborating with the team has opened me up to an incredibly supportive group of "critical friends" and my experience has been nothing but great. When you're trying to build something for and from a community, that sense of collegiality really helps to build the reputation of the project and the individuals involved.
I think it's a resource that will persist for a long time and I'm delighted to have used and contributed to it.
What are the longer-term benefits for students and educators of engaging with the material in this collaborative manner?
As a sector we have a larger number of international students, which is a fantastic thing for learners because for what might be a relatively niche idea, they find themselves in a room with dozens of people with the same interest from all over the world. Active learning exposes them to an opportunity to learn from, talk to and share experiences with people who have completely different perspectives and cultural understandings, yet they come together in a shared conversation.
By connecting students with each other, they can start to appreciate the nuances of the material they're presented with. They also learn how to communicate what they learn, in the same way that as educators we have to think about how to communicate knowledge to people with different backgrounds and perspectives. In the time we're together, active learning plans help us all to maximise that opportunity.
That's the value of university – people have the chance to connect with others and gain a deep appreciation for ideas. When they leave, they see how much this transfers to other areas of life, whatever they go on to do – they gain the confidence to connect, to learn, to engage.
Dr Joseph Maguire is Associate Professor in Computing Science within the School of Computing Science at the University of Glasgow working at the intersection of security, privacy and education.